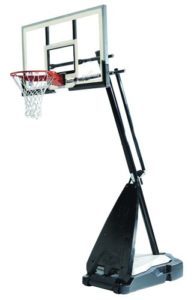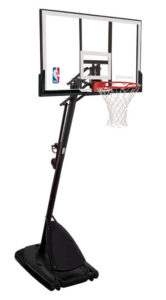 Spalding Ultimate Hybrid
The Spalding Ultimate Hybrid system comes with backboards in two sizes (54" and 60") and an adjustable height system ranging from 7.5' to 10'. This top-of-the-line hoop also comes with the Spalding Breakaway Rim.
The top part of the base is detachable and can be filled with 19 gallons of water, while the bottom half of the base can be filled with up to 200 lbs. of sand or gravel.  The advantage of this technology is that the Spalding NBA Hybrid Portable Basketball Hoop is easier to transport than other portable basketball systems, and will make breaking down the hoop for winter storage a breeze.
Hercules Acrylic
Heavy Duty Steel Framed Acrylic Backboard Board Pad
ProSlam Breakaway Rim
Pro-Glide Advanced Lift System with Rim Height Adjustment from 7.5' - 10'
3 Piece, 3.5" Round Pole
37 Gallon Heavy Duty Portable Base
Ultimate Hybrid 54"
Hercules 54"
Hercules 52"
Hercules 50"
Backboard
54" x 32"
54" x 32"
52" x 32"
50" x 32"
Material
Acrylic
Acrylic
Acrylic
Acrylic
Pole
3.5" x 3.5"
3.5" x 3.5"
3.5" x 3.5"
3.5" x 3.5"

Millz House Close-Out 

Sale Price

$499

$375

$360

$349

$249 (showroom model)
Millz House is a full service dealer.
Delivery within 40 miles of Millz House is free.Optional set-up fee is $180.
Delivery and/or set-up over 40 miles from Millz House, additional fees apply.